Not a birthday card for Jan. There's no point in spoiling the girl and raising future expectations!
Jan has been attempting to get a replacement debit card for her Australian bank account. This is her 3rd attempt and involved a lighting trip to Heathrow to collect the recently arrived card. We hired a car from Enterprise for the journey so it's become an expensive card.
The card had been posted from Australia to a good friend of Jan's grandparents and when we arrived to collect it from Hilda she had an unexpected birthday present for Jan.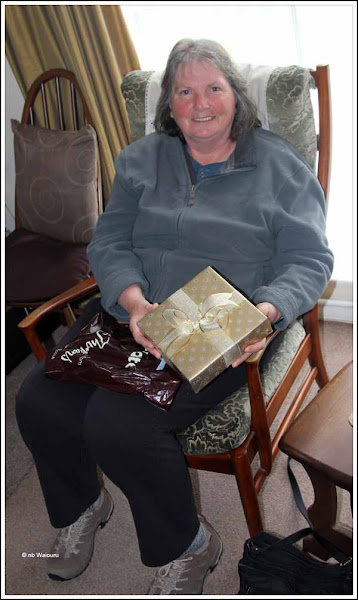 Apparently chocolates are a girls best friend!
On our return to Rugby Jan attempted to follow the instructions to activate the card by phoning Australia. After four failed attempts with the canned voice telling her the account details were wrong; (they aren't) and with the frustration meter going off the scale; Jan gave up! Bloody expensive scrap of plastic.
On the way back up the M1 motorway it started to hose down with visibility becoming very poor on a couple of occasions. Moreover we weren't doing 4mph and there was nowhere to pull over and moor. It briefly cleared just as we arrived back on Waiouru, but then the heavens opened again and the boat was pelted with hail. I managed to get a quick photo of the towpath through the porthole.
As I was taking the photo Jan started squeaking that some of the hail was bouncing off the roof into the inside of the mushroom vents and then falling inside the boat. She was particularly concerned about the vent above our bed! Wouldn't be the first time I've slept in wet bedding……. from water of course!
The only good piece of news for the day was the Hurricane started without any problem. Hopefully it keeps going that way.
My attempt to book a date and time to sit the "Life in the UK" test has hit yet another obstacle. The booking must be made online and it requires a postcode as part of the process. The UKBA never replied to any of my phone calls or emails so I used Hilda's post code at Heathrow to complete the online registration. However the website will now only allow me to book for the test in her location and we are miles away with the intention of heading further north. So I phoned the Test Centre Helpline where I was informed they couldn't help me and I'd need to contact the UKBA. They even gave me the same number I've unsuccessfully used for my previous attempts. Back to square one……. "There's a hole in the buck dear Liza, dear Liza" Maybe the UKBA is encouraging me to become an illegal?