Although our TV was purchased when we arrived in the UK back in early June, lack of room and a transient lifestyle has meant it been left in storage. Today I managed to rig up some temporary connections with the dual objectives of confirming it actually works and providing a greater selection of channels. The existing TV on Ufton is quite small and also analogue. It only receives four channels and the picture quality is very poor.
Our TV has inbuilt Freeview and Freesat tuners, however we didn't have a digital aerial. Paul; one of our "liveaboard" neighbours, was extoling the quality and size of his TV aerial so I went down and had a look at his setup. The aerial was quite small and available from Maplin at a very reasonable price. Another plus was the free delivery. I couldn't purchase it online as we don't have an address, but I was able to order it by phoning their purchase line. It arrived within two days; which rather impressed me!
The aerial requires a 12v DC power supply for the built in amplifier and it does need to be directed at the nearest tower. It came with both a suction mounting bracket and a pole bracket.
I needed to secure it to the roof and realised the suction cup would probably fail on the curve of the roof. So I've used one wood screw to secure it to the boarding plank using the pipe bracket mounting. A more permanent solution might be to fit the aerial to a telescopic pole and have a 150-200mm length of steel pipe welded to the roof of Waiouru to hold the base of the telescopic pole. After looking online at the Screwfix, B & Q and Homebase websites; using a telescopic window cleaning pole looks a viable option.
The TV is currently sitting on top of the 12v Engel freezer at the front of the saloon. This isn't the ideal location and it's actually too close to my chair leaving me with a kink in my neck looking over my shoulder to view the screen. However it will have to suffice for a few days until I can relocate it. Eventually It will be mounted on the wall in Waiouru using a swivel arm.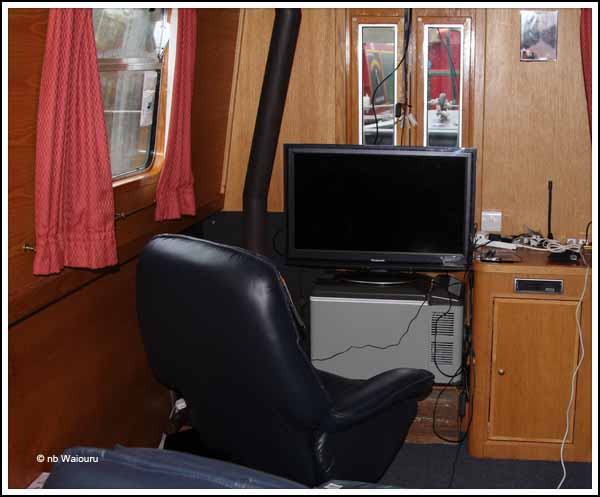 Having now installed the aerial and setup the TV I can confirm the Freeview signal from the aerial is very good. Eventually we will reach the point where the satellite system is also connected to the TV. But that won't be until the complete system is installed on Waiouru.